Foreign Business Professionals Program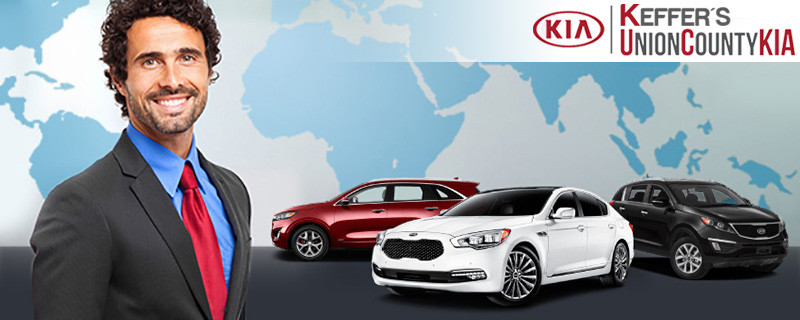 Moving to a new country can be stressful, let alone trying to find the right car to drive while there.
Kia wants to help.
When you buy or lease a car from Union County Kia, we work to make it simple, no matter your country of origin.
In an effort to ease the process of car buying for foreign business professionals, Kia Motors Finance announced the national launch of the Foreign Business Professionals Program earlier this year.
If you are an eligible customer under this program you qualify for:
•A Tier 4 buy rate
•An addendum that protects against early termination of lease or retail contract
Union County Kia in Charlotte, North Carolina, is a proud participant in this program and is excited to work with foreign professionals seeking a new or certified pre-owned Kia vehicle.
How Do I Qualify For The Kia Foreign Business Professionals Program?
If you are a L-1 or H-1 visa holder residing in the United States, you may be eligible to purchase or lease a Kia vehicle through the Foreign Business Professionals program.
What should I bring to the dealership to prove my eligibility?
For a full list of what to bring to the dealership, see page 2 of the Foreign Business Professionals Program PDF pamphlet.
But what if my visa or sponsored employment ends before my lease is up?
Don't worry, Kia understands that sometimes these things happen. That's why the program includes an Addendum that protects you from those situations. Through this program you are able to end your lease or sell back your vehicle with no penalties.
Read over the addendum on pages 3-4 of the pamphlet, and bring it signed to the dealership at the time of purchase or lease.
So, what are you waiting for? Call or visit Union County Kia today to start the process of finding your new car. Our helpful and knowledgeable staff is ready and willing to help with any questions you may have about the program.
Sales Hours
980-365-6588
| | |
| --- | --- |
| Monday | 9:00 am - 8:00 pm |
| Tuesday | 9:00 am - 8:00 pm |
| Wednesday | 9:00 am - 8:00 pm |
| Thursday | 9:00 am - 8:00 pm |
| Friday | 9:00 am - 8:00 pm |
| Saturday | 9:00 am - 8:00 pm |
| Sunday | 1:00 pm - 6:00 pm |
Service Hours
980-365-6620
| | |
| --- | --- |
| Monday | 7:30 am - 6:00 pm |
| Tuesday | 7:30 am - 6:00 pm |
| Wednesday | 7:30 am - 6:00 pm |
| Thursday | 7:30 am - 6:00 pm |
| Friday | 7:30 am - 6:00 pm |
| Saturday | 8:00 am - 4:00 pm |
| Sunday | Closed |
Parts Hours
980-365-6504
| | |
| --- | --- |
| Monday | 7:30 am - 6:00 pm |
| Tuesday | 7:30 am - 6:00 pm |
| Wednesday | 7:30 am - 6:00 pm |
| Thursday | 7:30 am - 6:00 pm |
| Friday | 7:30 am - 6:00 pm |
| Saturday | 8:00 am - 4:00 pm |
| Sunday | Closed |